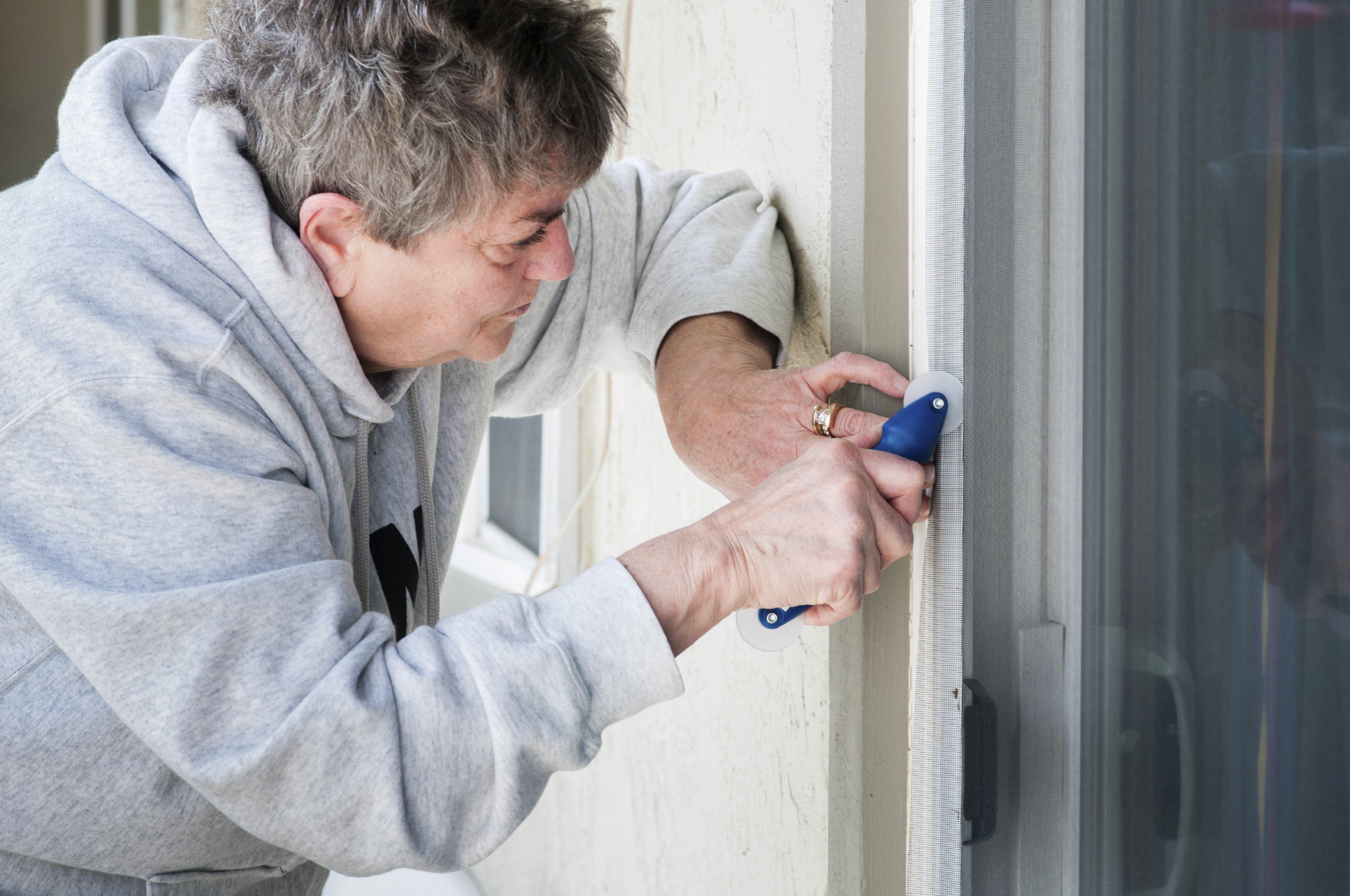 21 Apr

How to Fix a Screen Door
Screen Repair Idaho Falls
As summertime approaches, a few spring repairs may help you to better enjoy the nice weather. One thing you may consider is repairing your screen door. A screen door helps to keep bugs, birds and other outside critters and debris from getting in your house. When you want to open your door and windows to cool off your house, it's important to have a screen that works. If you have a small or large screen hole to repair, or maybe an entire screen replacement, there are a few things you can do depending on the size of the hole. From small sewing repairs, to household concrete fixes, screen patches, and complete screen door replacement, we can help you in your home do it yourself projects.
Small Screen Hole Repair
If you have a small hole in your screen about a quarter of an inch, these are no sweat and pretty easy to fix. Since the hole is small you can stitch up the hole with a thread and needle, or you can find some household concrete to put to work.
Equipment List
Heavy-Duty, Thick Thread
Needle
Household Concrete
Option 1: Fix the small hole by a small sewing repair. If the hole is about a quarter of an inch or smaller, a simple sewing repair will do. Gather thread and a small needle and carefully sew up the small hole with a few stitches.
Option 2: Use household cement to fix the hole
Clean the Dirt, Dust from the Area surface.
Use clean, household cement to patch the hole
Large Screen Holes
For holes larger than 3 inches, your screen window or door will need a screen patch. When going to the store to buy a screen patch, be aware you will need to match the colors, mesh sizes and the material the screen is made from, whether it be aluminum, nylon, fiberglass, or something else.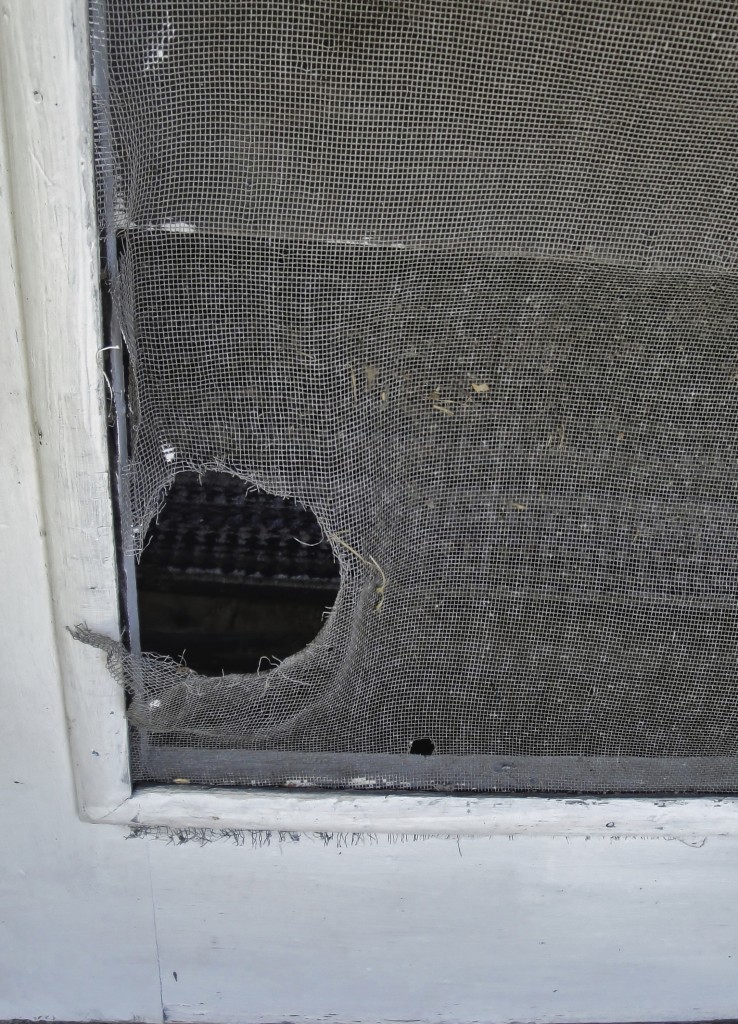 Equipment List
Screen Patch
Tape Measure
Scissors
Thread, Needle (optional)
Measure the area needed for the screen patch.
With your scissors cut a screen patch so the edges of the perimeter are about 1-2 inches bigger than the hole.
Fold the patch edges at a 90 degree angle all the way around.
Pull out a horizontal strand from the patch up to the folded edges.
Align the screen patch as best you can both vertically and horizontally over the damaged area on the screen patch.
Slip through and interlock the screen patch edges with the screen.
Press Flat.
Optional Steps:
Take thread and weave through double layer of screen and patch to better secure the patch on the screen.
Screen Replacement
There may be a need for a complete screen replacement for your door or window, because of an accident or age deterioration. Let's face it, someone at one time or another has accidently walked through a screen door. Listed below is an equipment list of things you might need. When going to the store, be aware you will need to know the length/width dimensions of the screen.
Equipment List
Screen
Spline
Screwdriver
Spline Roller
Utility Knife
Scissors
Temporarily remove door handle to clear work space to replace the screen and spline.
Remove old screen and spline with a screwdriver from the window or door frame and throw away. Be careful not to bend the frame out of shape.
Lay window or door frame on a flat surface; sawhorses work great.
Clamp the sides down, so there is a slight bow (this helps with the tightness of the screen later).
Take roll of screen and lay across the door frame.
With a splining tool, roll the screen into the grooves of the top part of the door, and then on the opposite end at the bottom of the door.
Next roll the screen in the sides.
Cut screen at least an extra inch or two over door frame.
Use a spline roller and insert spline into groves. Follow the same order above, doing the top and bottom first, and then the sides one at a time. Make sure the spline is firmly in place.
Cut away excess screen sticking out of the door frame.
Place the door handle back on and done!
How to Clean/Maintain Screens
Keeping your screen doors and windows clean is important to help maintain its good condition. Clean screen doors and windows also help to minimize allergies affected by the dirt and dust caught in the screens.
Vacuum screen doors and windows: Simply vacuuming your screens every few months can help cut down on the dust and dirt particles that wind up in your house from your screens. Dust and dirt naturally compound on window screens, which is why is important to make sure they are cleaned every few months.
Wash screen and windows: Occasionally washing screens is a great habit to maintain the window screens and doors. Carefully remove the screens for the windows and door and give them a good wash with the hose and let them dry.
Don't Paint Screens and Windows: For whatever reason people paint their screen windows and doors, it is not a good idea and wastes your time and money.
Let in the light this summer and keep the bugs out by fixing your screen door with the help of CK's Windows and Doors. Give us a call today for more help with screen repair Idaho Falls residents need at (208) 528-8070.
By: Karli
April 20, 2015