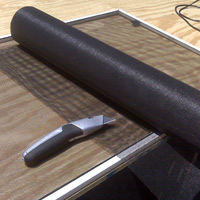 Screen Repair Idaho Falls
Window screens should be replaced every 10-15 years, but may need some repairs between replacement. Your home's window screens undergo a lot of extreme weather conditions throughout the year. The harsh snow and ice of winter and intense summer sun take a toil on screens, causing them to easily tear, break, and wear.
When your screen does tear or break, don't replace the whole screen just yet. By repairing the damaged screens, you'll be saving a lot of money and time, and prolong the need for complete replacement. CK's Windows & Doors screen repair can make any screen of all shapes and sizes look brand new!
For re-screens or screen repairs, we have various standard screen parts always in stock, available in many colors. We can also customize any screen to meet your desired qualifications. For window screen and door screen repair in Idaho, CK's is here to meet all of your needs.
Our Service Areas:
Driggs, ID
Rexburg, ID
Rigby, ID
Idaho Falls, ID
Shelley, ID
Blackfoot, ID
Pocatello, ID
Click on the Manufacturer for More Information
---