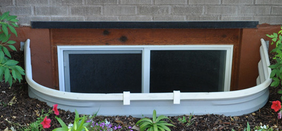 Window Wells Rexburg
Searching for the right window wells and window well components to match your house can make a big difference in the overall attractiveness of your home and yard. Imagine for a second, a house with a beautiful yard and exterior. Then imagine a window well which doesn't quite match the scene or the style of the house; this can and will be avoided with CK's window well systems. We know customers want a product which is durable and adds to the exterior appeal of the house. The good news is CK's offers quality basement window well systems and decor, which will fit well with your expectations for functionality and appeal.

CK's offers New Colors
There are now three basement window well colors available to choose when you are searching for the perfect window well system. These include White, NatraStone and Stacked Stone. The decor and appeal of a quality window well system can help with the overall aesthetics of the house. It's nice to know these color options and styles available will match nearly every house. Stacked Stone, the newest option available, , looks good aesthetically and also acts to retain dirt and earth in all weather conditions. With the window wells looking sharp, more customers are opening the basement blinds. There is no longer a need to detract attention from this area of your house, because the window well looks classy inside and out. Window well systems are a great addition for homes to allow more light and warmth in the basement.
Safe and Appealing
Safety is a major priority with basement window well systems, which is why CKs offers quality window well systems which are safe for the whole neighborhood. Families with small children and pets no longer need to worry about their window wells, because we have got it covered, literally. CK's meets building and installation codes, and has sought to provide these safety options to ensure your small children or pets are kept safe. The new window wells systems available have the stability and durability to better withstand the elements and last through time. Whether it is basement windows or window well covers, escape ladders or window well grates, basement window decor or a basement window buck, we meet the needs for safe and appealing window well systems. Contact CK's today to explore more options for window well decor and safety at (208)-528-8070.
By: Karli
Our Service Areas:
Driggs, ID
Rexburg, ID
Rigby, ID
Idaho Falls, ID
Shelley, ID
Blackfoot, ID
Pocatello, ID