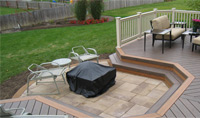 At CK's, we only have the best deck supplies and services. We offer Trex and TimberTech products that will add beauty to homes, businesses, and resorts. These decks are even low maintenance, safe, durable, and can even increase the value of your home.
Trex and TimberTech both provide great warranties, are industry-leading products, and will maintain the high standards you set for the quality of your decks.
Both manufacturers were built on the invention and perfection of wood-alternative decking. And although they've expanded their outdoor offerings through the years, the enduring beauty and hassle-free maintenance of their decking and railing materials still inspire every innovation. For more information and resources, start browsing their collection of revolutionary products at the heart of the world's #1 decking brand.
Transcend Decking
Outperforms, outlasts, outdecks all others.
Enhance Decking
Signature strength in three versatile colors.
Select Decking
Our simplest high performance offering.
Our Service Areas:
Driggs, ID
Rexburg, ID
Rigby, ID
Idaho Falls, ID
Shelley, ID
Blackfoot, ID
Pocatello, ID
Click on the Manufacturer for More Information
---