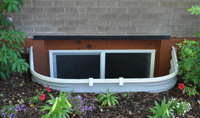 ESCAPE in an EMERGENCY
Thousands of older homes have basement escape windows that do not meet current Egress building codes. This means that in basement bedrooms, there are no openings large enough for occupants to escape the house in an emergency. If your house has small windows with no way to escape, installing a basement escape window could save your life or someone you love.
Basement Egress Windows for Sale
Basement egress windows provide more light and ventilation, making the basement a more inviting living space. CK's has installed hundreds of escape windows over the last 10 years. All of our customers are happy and pleased with their new basement escape windows. If you want a professional job done right, give CK's a call.
CUT-OUT PROCESS – START TO FINISH
Our Service Areas:
Driggs
Rexburg
Rigby
Idaho Falls
Shelley
Blackfoot
Pocatello