Window Well Covers
Window wells are a great way to bring natural light, safety, and beauty to your basement. They may be amazing for the interior, but what effect do they have on the outside of your home? Window wells have more purpose than you may think – they effectively protect your home, family, and your home's curb appeal with window well covers.
Safety Precautions
Safety is the top priority when it comes to understanding why you should have window well covers. While it seems that the inconspicuous holes nestled in the shadows of your home don't need something covering them if no one will notice them. However, this isn't always the case when kids or pets are around. If there is a hole in the ground they are going to find it, whether by accident or on purpose.
Window wells can cause a variety of problems including injuries from the fall itself, the possibility they might not be able to climb back out on their own, and breaking the window when they fall. Broken glass can cause a minor accident to become very serious.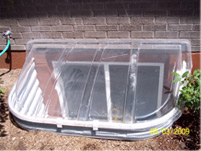 Beyond Safety
The lack of window well covers also brings up concerns beyond safety and practicality. An open window well is almost an invitation for all sorts of trash and leaves to collect in the well, nests and access for rodents and other pests, as well as hard water stains. A simple window well cover can help minimize and even eliminate hard water stains that have a bad habit of finding their way to your windows. Your windows will stay nice, clean, covered, and protected.
So, whether it is to stop kids, adults and pets from falling down it, keeping leaves and pests out, or just to make sure that your yard is safe for anyone, take the time to purchase window well covers. There are several different styles so you don't have to compromise your style or taste for safety. Also, in the interest of safety, window well covers are designed to be easily popped off from the inside so that those below ground windows can be used as fire escapes.
Our Service Areas:
Driggs, ID
Rexburg, ID
Rigby, ID
Idaho Falls, ID
Shelley, ID
Blackfoot, ID
Pocatello, ID