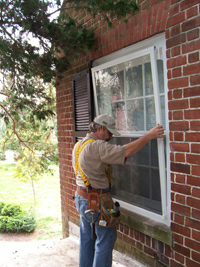 When the weather starts to cool, you will start to feel the effects of drafty windows. The furnace may run efficiently, but the house can still feel chilly if that heat is escaping through the windows. You may even be able to feel the icy air blowing inside your home when you put your hands up to your windows. New energy efficient windows can help keep the cold air out and the warm air in, all while lowering your energy costs.
The United States Energy Department recommends replacing your windows with the most energy efficient windows that you can afford. This will allow you increase the comfort of your home while also saving you money in the long run. They recommend choosing:
Windows labeled with the ENERGY STAR® label.
High-performance windows that have at least two panes of glass and a low-e coating.
A low U-factor for better insulation in colder climates.
A low solar heat gain coefficient (SHGC)—this is a measure of solar radiation admitted through a window. Low SHGCs reduce heat gain in warm climates.
Other tips to keep your home warm and save money on energy bills are to check with local utility companies for rebates, and have your windows installed by a professional to make sure they are installed the right way. The best windows are only effective if installed correctly. At CK's we provide high quality windows and doors, and top notch installation.
Our Service Areas:
Driggs, ID
Rexburg, ID
Rigby, ID
Idaho Falls, ID
Shelley, ID
Blackfoot, ID
Pocatello, ID