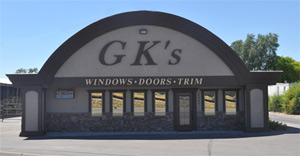 With many years of quality management and service, GK's has grown into a versatile and dynamic company. GK's has seen a few changes in the last few years, as the ownership of the company changed in 2009, to Chris and Gary Carlson, father-and-son.
To reflect the new father-son ownership, the company's name has been changed to CK's. According to Chris Carlson, the name change has been in the making for a while, since it is more personal to the new owners and more accurately reflects the updated business ownership.
GK's, now CK's, was previously owned by Gary Christensen and Kent Carlson. The business started out solely as a basement windows systems company. Over the years the business has grown and expanded its services to offer interior and exterior door systems, window and door replacements, basement and upstairs windows, crown moulding, and much more.
The company has come a long ways since it first began and has been able to increase its services to best meet the needs of customers. The main focus and speciality of CK's is upstairs and basement windows systems.
CK's has served its customers for over 16 years and has found success by working towards quality customer satisfaction.
Chris Carlson said the number one goal of the business is to leave the job with customers 100% satisfied. CK's employees are trained to not leave the worksite until the job is done right, and customers are happy and 100% satisfied.
Since all of CK's installers are certified and trained to perform the work with perfection, customers need not worry about the installers leaving without finishing the job. If a job is not done right, it soon will be. There is nothing more important to CK's than quality workmanship and customer satisfaction.
For any questions or concerns about CK's services, feel free to contact 208-528-8090. We would be glad to answer your questions.
Our Service Areas:
Driggs, ID
Rexburg, ID
Rigby, ID
Idaho Falls, ID
Shelley, ID
Blackfoot, ID
Pocatello, ID